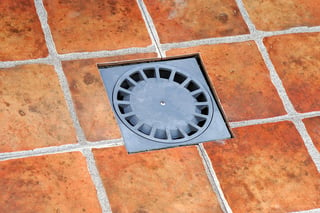 Floor drains facilitate the cleaning and maintenance of your production and sanitation locations. They also play a key role in keeping your work environment safe, especially if there is the potential for excess water or other fluids. However, with the convenience of floor drains come inherent problems and harmful issues. Not only can adverse conditions in your floor drains create an unsanitary environment, but they can also lead to both slip & fall accidents and expensive repairs and reconditioning.
Common Floor Drain Problems
Sewer odors can rise from dried traps.
Backflows can occur and cause flood damage.
Floor drains provide a doorway for insects (drain flies, maggots, roaches, etc.)
Drain flies will breed creating additional insect issues within the drain.
Expensive repairs may be needed if the drain isn't properly maintained.
Traditionally the remedy to these problems has come in the form of chemical-based solutions. However not only is flushing the drain with chemicals harmful to the environment, it may not be effective. Clearing floor drains with these solutions is also labor intensive and repetitive.
Ignoring the problem will not only lead to the common issues mentioned above, but replacing trap primers can be an expensive undertaking. After parts and labor a retro fitted trap primer can cost over $1,000. A new installation can cost over $500. And a water trap primer replacement can cost over $300. When you take this into account for all of your floor drains, the costs can really add up; and without improving your floor drain maintenance measures, you may be doomed to repeat this process. So what is a better solution to prevent floor drain odors and drain flies?
The Green Drain Floor Drain Solution
The most effective way to prevent odors and stop drain flies in your floor drains is with the Green Drain, from Chemex. Green Drain utilizes a one-way valve that was designed to eliminate floor drain odors with durable silicon skirts. These silicon flaps also prevent backups, backflows and insects from entering through the drain. Green Drain can be installed in the pipe or within the drain housing. Green Drain is available in four sizes: GD102: 2 inch, GD103: 3 inch, GD1035: 3.5 inch, GD104: 4 inch.
Green Drain Benefits
Green Drain's one way valve creates a seal that stops floor drain issues.

Gases from drains are eliminated.

Strong silicon skirts can prevent flood damage.

Insects are blocked from entering through drains.

Provides an eco-friendly, sanitary and chemical free solution.

Lasts for several years and requires little to no maintenance.

Easy to install.

Improves drainage quality.

One way check valve provides insurance froom backflow
When it comes to your facility's floor drains, ignoring them is not an option. Neither is settling for odors, insects and unsanitary conditions. Now there is an alternative to harmful, ineffective chemicals that can stop odors, prevent flood damage and end drain flies and other insects from entering through your floor drains. Chemex Industries provides environmentally safe and effective cleaning products and tools for a wide range of industries. Green Drain is a proven and effective floor drain solution and is an example of the quality products that Chemex Industries has available.