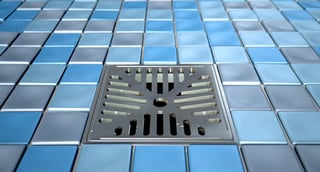 The designed purpose for a drain in any setting is to allow water and other fluids to escape a floor. However, every drain also serves as a two-way street. One way for liquid to enter the drain; and another for gas to escape from below. The truth is any drain can be susceptible to harmful gases, odors, and pests permeating to areas that they aren't wanted. This becomes especially true in industrial and commercial areas.
One of the more common and harmful things that can rise from an unprotected drain is sewer gas. Sewer gas is a complex combination of toxic and non-toxic gases. Sewer gas is formed from the decay of household and industrial waste. There are two highly toxic compounds in sewer gas: hydrogen sulfide and ammonia. Along with exposing your facility to these dangerous elements, there are other risks that accompany exposure to sewer gas.
Hydrogen Sulfide Poisoning
Low levels of hydrogen sulfide will cause eye irritation and respiratory problems. The rotten egg smell of this gas is very apparent, even with a low concentration level. Other low level symptoms come in the form of: dizziness, nausea, headaches, and drowsiness. At higher levels, the danger increases. Moderate levels can impact your sense of smell, making detection impossible. At extreme levels an immediate loss of consciousness and even death can occur.
Asphyxiation from Sewer Gas
Large amounts of methane derived from sewer gas decreases the amount of oxygen in the air. A lack of oxygen can cause headaches, nausea, dizziness, and unconsciousness. With very low oxygen levels, death can occur quickly. Sewer gas will mix with the air indoors and have the highest concentration at the source.
Explosion and Fire from Sewer Gas
With methane and hydrogen sulfide infiltrating areas of your facility the risk of fire and explosions significantly increase.
So how do you protect your drains and facility from sewer gas and all of the potential risks that come along with it? There is one simple, effective answer. Green Drain.
How Does Green Drain Prevent Sewer Gas and Keep Drains Protected?
The Green Drain can help to prevent sewer gas infiltration and potentially fatal cross contamination and infection spread caused by unprotected drains. This is an economical drain trap seal device that allows water to flow down the drain while preventing pests, odors and harmful gases and pathogens from creating a risk for your work space.
Green Drain Has a Unique Design That Let's Water Through and Keeps Gases Out
Green Drain features a one way drain valve that uses strong silicon skirts. These silicon flaps allow water to escape, while stopping anything (gas, odor, pests) from entering your space through the drain. Green Drain is easy to install and comes in these sizes:
2" (51mm)
3" (76mm)
3 ½" (89mm)
4" (102mm)
Green Drain is perfect for any industrial or commercial setting as it increases indoor air quality, protects public health, all while not impairing flow rate. Green Drain also has no impact on routine plumbing maintenance.
So before you let an unprotected drain put your facility or people at risk for the harmful effects and risks of sewer gas, install Green Drain to keep your drains and business protected. Green Drain is one of many eco-friendly cleaning and maintenance products available from Chemex Industries . For over 40 years Chemex has provided solutions for maintenance and safety needs across a wide range of industries.