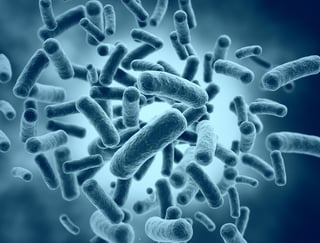 The way we clean, care for, and maintain things today have drastically improved, even from only a few years ago. Whether we are talking about household items or industrial equipment, the advancements made in methods and materials is impressive. This fact is especially true when it comes to your facility's grease traps.
It wasn't terribly long ago that grease interceptor and grease traps were cleaned with a petroleum-based surfactant, industrial solvent, or high emulsifying surfactants and terpenes. While these applications liquefied the grease allowing it to move downstream and reduced pumping efforts, they were very slow to biodegrade and took a toll on the environment.
Today there is much more effective and environmentally safe way to maintain and clean your grease trap systems. Instead of overpowering the build-up with strong, stringent, dangerous surfactants, bacterial formulations are now available. These microbial formulations are specifically designed for use in drain and grease trap maintenance. For the difficulties posed by grease within maintenance applications, a higher concentration and specific blend of bacteria is used to degrade organics. These bacteria offer superior performance in degrading fats, oils, and grease. These formulations also offer a fresh fragrance for grease traps and drains.
Chemex 33 GTC is a specially designed solution to treat and maintain both:
Grease Interceptor: A specialized compartment of a sewer line that traps grease so as not to clog lines or overwhelm treatment plants downstream.
Grease Trap: A small collection area to trap grease for easy removal and rendering.
The biological advantages of Chemex 33 GTC are:
A carefully selected 7-strain blend based on enzymatic production.
4x-8x higher counts than industry standards.
Lipase producers to degrade fats, oils, and greases.
Protease producers to degrade all types of protein.
The latest improvements of Chemex 33 GTC feature a non-emulsifying surfactant that removes grease from the walls of the surface. It does not liquefy grease and allow it to pass downstream like older, more harmful solutions. Instead it softens the grease making it easier for the bacteria to digest it. This biodegradable surfactant is safer for the environment, operations, and offers low toxicity and easy biodegradability.
When it comes to maintaining your grease trap systems, microbial cleaners that actually digest the build-up of fats, oils, greases, and proteins offer superior performance to older, more harmful methods. Chemex 33 GTC is a state-of-the-art microbial grease trap cleaner that is safe for the environment and ideal for maintaining grease interceptors and traps.