F-2002 Safely Dissolves Uratic Salts In Urinals, Without Harmful Fumes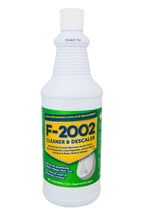 Nobody enjoys dealing with problems related to industrial bathrooms. The smell of the urinals is often overpowering, and the chemicals prescribed to clean them are generally harsh, toxic, and underwhelming in their ability to get the job done. All to often, multiple products are required to tackle the different kinds of encrusted buildup, and the mixing of these products causes harmful fumes, that is apparent with many industrial cleaners.
F-2002, an Acid Replacement Cleaner Does the Job Of Multiple Cleaners
Most maintenance personnel currently use various products to tackle uratic salts (uric salts), that encrust urinals and cause blockages. Mold and mildew, that get in grout and other bathroom fixtures, as well as rust stains, also heighten the concern. All of these chemicals are typically corrosive and produce harmful fumes, that can be unhealthy for workers. F-2002 safely and effectively accomplishes all of these jobs and more. This makes F-2002 a cost effective option, with the added benefits for workers health.
F-2002 Is Non-Toxic, An Acid Replacement Cleaner

F-2002 safely dissolves uratic salts in urinals with a non-toxic and biodegradable formula. This descaler effectively tackles large accumulations of odorous uratic salt buildup, safely without the corrosive properties. It works effectively on all bathroom cleaning jobs including difficult soap scum and various stains, including rust, without emitting vapors. F-2002 is also a great cleaning agent in food service environments, because of its non-toxic formula. It is safe to use on stainless steel equipment, tile floors, walls, and grouting in commercial kitchens.
Opens Blocked Urinals...
A non corrosive acid replacement cleaner for numerous surfaces.
Additionally, F-2002's application as a floor cleaner/degreaser, on ceramic or quarry tile will increase the slip resistance factor.
If you would like more information on using this non-toxic alternative, for your industrial/commercial applications, please contact us today.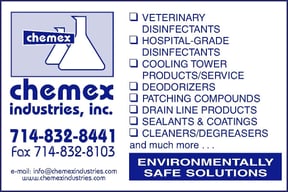 See "F-2002" Technical Data Here