F-2002 is a safe, high performance-biodegradable, non-caustic, non-acid, non-corrosive, multi-functional cleaner, for industrial, municipal and institutional facilities. It removes calcium (tough water scale), soap scum, rust stains, lime mold & mildew. Yet, unlike other products that create dangerous acidic vapors, F-2002 has no harsh fumes, and it is safe to the user and the surfaces being cleaned.
In conventional cleaning, two or more products are typically used: one to remove stains like rust and calcium, another to remove soap scum, mold & mildew. F2002 effectively handles both in one operation.
Multiple Area of Application:
Bathrooms/Restrooms: Cleaning Sinks, Toilets, Tile, Faucets, Ceramic Tile & Grouting
Kitchens & Food Service: Tile Floors, Walls, Grouting & Stainless Steel Equipment
Ridding facilities of dangerous acids and their fumes is very desirable to chief engineers and executive housekeepers.
MAJOR BENEFITS:
SAFE TO USE
HIGH PERFORMANCE
COST EFFECTIVE
ENVIRONMENTALLY CORRECT
100% BIODEGRADABLE
NON-CORROSIVE
SAFE ON SURFACES
NON-TOXIC & NON-FUMING
NON-REGULATED SHIPPING ( Regular UPS or FedEx)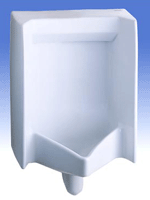 F-2002 Effectively Cleans & Descales Urinals
When F-2002 goes down the drain line it will Remove Heavy, Encrusted, Uratic Salt Deposits, Providing Salt-Free Urinals. Removing encrustations, will also remove malodors.
F-2002 is a 25% Concentrate, providing greater cleaning power and economy
We can answer your technical questions regarding uratic salts removers and safe alternatives to remove scale and corrosion. Ask for Barry