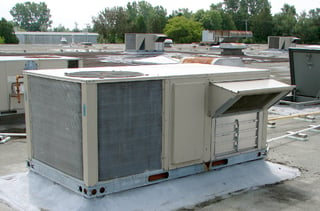 Air Conditioning condensate drain pans and lines can be breeding grounds for mold and sludge. These two culprits can lead to big problems, if left unchecked. Mold growth in the condensate drain pan, can negatively affect air quality. Mold is a recognized allergen that has been linked to breathing difficulties and severe illness. Sludge in drain pans and lines can cause stale water odors, and worse; they can lead to clogged or plugged lines. Sludge clogs in the pan or line do not allow the plumbing hardware, to function properly. Condensate that backs up and overflows can cause troublesome and expensive damage to surrounding structures. Avoid these issues with regular maintenance, that incorporates Pan-Gel geltabs.
Pan-Gel geltabs have locking action. It works like this:
Condensate drips or flows over the tabs, which then produce a gel that locks the tab in place. The tabs are formulated with the powerful ingredient "AT-8", and operate by means of very slow gel release. The slow release provides aggressive, sustained cleaning action. It prevents mold and sludge formation and buildup and keeps drain pans and lines clear. Stale water odors are prevented because these substances are never allowed to form.
Pan-Gel geltabs begin working immediately and prevent issues that can lead to costly repairs. Significantly, these geltabs do not release chlorine or other toxic or noxious fumes. They are perfect for use in industrial plants, hospitals, apartments, office buildings, schools, food preparation areas, nursing homes, hotels and motels.
Pan-Gel geltabs are NSF Registered:

Control odors and prevent overflow, inhibit the growth of bacteria, the production of algae, scum and disease-causing organisms, by simply placing the Pan-gel geltab on the condensate drain line. Lasts up to six months.
At Chemex Industries, we provide an an extensive line of environmentally safe solutions for all your maintenance needs and safety requirements. Contact us today to find out more about Pan-Gel gel tabs and other products to meet your facility maintenance and custodial requirements. We are committed to providing a bridge to a greener community with integrity and superior customer service.