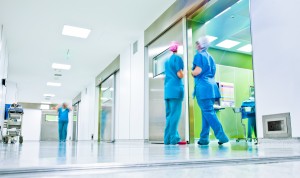 With the holidays come colder weather and more time with family and friends. Unfortunately, bacteria and viruses come along with that. While bacteria and viruses will grow in homes, hospitals are a more popular breeding ground. Hospitals are a necessary component of society, making it important to keep them as clean and germ-free as possible. Luckily, Clorox has just introduced a new product - Clorox Healthcare Fuzion Cleaner Disinfectant - which is EPA-registered to kill C. diff spores and 35 other pathogens in 2 minutes or less.
Clorox Healthcare Fuzion Cleaner Disinfectant
Fuzion combines bleach and aesthetics to make it the ideal cleanser to use on any surface. It has "bleach efficiency that's easy on surfaces". So what can Fuzion do?
In 1 minute, it can kill 36 common bacteria, viruses, fungi, and TB including staphylococcus aureus, hepatitis B, rotavirus, HIV type 1, and norovirus.

In 2 minutes, it can kill

clostridium difficile spores

.

Can be used on stainless steel, plastic, finished wood, and other common surfaces without causing damage due to its neutral pH.

Does not leave a strong odor on surfaces.

Does not require PPE.

Compared to Metrex CaviCide and EcoLab OxyCide, Fuzion left a significant less amount of residue.
Fuzion allows hospitals to use the cleaning and disinfecting power of bleach without causing damage. All in all, it provides safe and strong protection against the spread of pathogens. Fuzion comes in a quart package with 2 chambers and mixes itself, making it easy and safe to apply.
Keeping your healthcare facility safe and clean can now be done faster than ever before. Chemex Industries offers a wide variety of environmentally safe cleaning and maintenance solutions.