---
F-2002! Now Re-Formulated with a fresh, clean-smelling mint fragrance. Yes. Same product -- a 25:1 Concentrate, now has a fragrance that everyone loves.
F-2002 is designed as an alternative to harsh acid cleaners: phosphoric, hydrochloric, hydroflouric. Much safer, yet just as effective. This safe organic product is non-fuming and is as mild as hand soap, to the skin and to the typical surfaces that require regular cleaning/descaling.
F-2002 is our first choice to maintain free-flowing urinals, as it devours hard uric acid crystals and uratic salts. All this without fumes, smoke and odor. Completely safe on all plumbing. Uric Salt Remover and Uratic Salts Remover extraordinaire. Used by plumbers and facility maintenance, to ensure safety and performance. Your first choice as a uratic salts remover and uric salts remover.
F-2002 also removes soap scum, lime, rust, mineral deposits such as calcium (hard water scale) and other soils. Safe for use on copper, brass, stainless steel, aluminum, ceramic tile, grout, stone, brick, concrete and porcelain.
Areas of use include: bathrooms, kitchens, schools, child-care facilities, restaurants, hotel/motels, locker rooms and more...
---
Non-Fuming
Non-Toxic
Non-Caustic
Phosphate-free
25:1 Concentrate for economy of use
Excellent Grout Cleaner/Renovator
Acid Replacement Cleaner Technology
Dissolves Uric Salts in Urinals
Excellent Uratic Salts Remover
Salt free urinals and drain lines
Available in Quart Packaging: 12x1 Quarts/Case
Also available in 55 Gallon Drum and 4x1 Gallons
---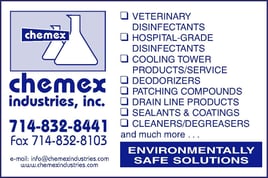 ---