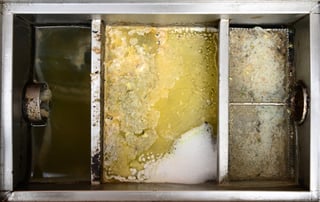 A small grease trap replacement and installation can cost over $1500. For larger grease traps (750-1000 gallons) the expense can exceed $8,500. This can be a costly, and still imperative, apparatus for any restaurant, hotel, resort, spa, hospital, food complex, and many other places that require a grease trap system. So how can you keep your facility safe and sanitary without breaking the bank on repairs and replacements? Simple grease trap maintenance with effective cleaning products is the best approach.
Before we get too far ahead of ourselves let's cover the basics of a grease trap. Whether you call it a grease interceptor, a grease recovery device, a grease converter, or anything else, it has one very important job; and that is to intercept greases and solids before they enter a waste water or municipal water system. If these systems aren't able to do their job, there are a variety of problems that can occur.
Slips and falls from grease build up, flowing onto floors
Foul odor transmission, that can enter the dining areas
Grease fires
Drain flies, insects and other drain issues
Downtime while sink and drains are backed up
Hefty Fines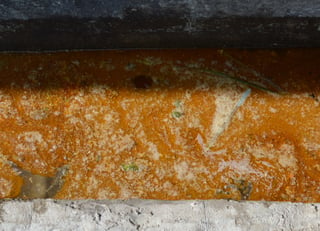 Now that we know the symptoms of a clogged or broken grease trap, let's take a quick look at the common problem areas.
Crossover Clog: This occurs when a build-up of grease and debris occurs in the crossover line between the two compartments of the grease trap.
Incoming Line Clog: A clog in the incoming line will cause the lowest plumbing fixture, like floor drains, in your facility to back up.
Outgoing Line Clog: A clog in the outgoing line will cause both grease trap compartments to overflow.
Full Grease Trap: This occurs when grease has not been removed from the primary compartment in a considerable period of time. When this happens the grease will spill into the secondary compartment and clog the crossover, incoming, and outgoing lines.
So how do you avoid these inconvenient, and potentially expensive clogs and problems? Maintenance with a high quality biological grease trap treatment is the answer. Solutions like this help to prevent grease build-up in between your regular grease trap cleanings. Chemex-33 grease trap treatment can keep your grease trap clean, clear, and odor free, but how does it work? Chemex-33 digests and degrades fats, oils, and grease to promote free flowing drains and grease traps. Its live microbial formula won't harm pipes and provides exceptional odor control. By regularly treating your sinks, drains, and grease traps with Chemex-33 you will keep your facilities smelling fresh, your drains clear and open, and your grease traps operating at full capacity.
See Technical Data Here See Safety Data (SDS)
See Comparison