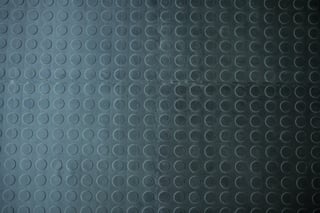 Have you ever had a cookie or a salad and found yourself pleasantly surprised by an unfamiliar flavor? That special ingredient can open your eyes to all sorts of new culinary possibilities that you wouldn't have considered before. It sounds strange, but rubber flooring can be the same way.
Rubber floors are becoming quite popular in a number of places for a number of reasons. Schools, arenas, elevators, and healthcare applications, and many other sectors are seeing the benefits of rubber flooring. In fact any business or facility that sees plenty of traffic can avoid the high costs of floor repair, tripping and slipping hazards, and even the development of dangerous mold, mildew and bacteria. These floors are hard wearing, provide cushioning, can feature raised studs or textures to prevent slipping, and they can absorb sound. Rubber floors also offer an attractive look as well as a low-maintenance surface. However, even though rubber floors can be efficiently maintained it is important to know how to care for them. Here are a few things to avoid when it comes to cleaning and treating your rubber flooring.
Alkaline Detergents: This type of cleaner will cause the floor to dry out and/or lose its color.
Conventional Cleaners: Conventional or all-purpose cleaners can cause studded and/or textured rubber floors to crack and peel.
Solvent Based Cleaners: Any d'Limonene, or citrus based degreasers, will damage and/or dissolve rubber floors. Avoid any cleaners that are designed to remove marks or spots.
Now that we've covered what not to do, how can you keep your rubber floor looking new while keeping it clean and safe? The answer is simple, Flexi-Sheen. Flexi-Sheen is a rubber wax and conditioner designed specifically for rubber floors. This solution features an exceptional blend of waxes, detergents, polymers and gloss enhancers. Additionally, the companion product, Flexi-Clean, is a neutral pH cleaner that removes soil. All of these ingredients allow for the removal of soil and enhances the gloss of all rubber surfaces. Flexi-Sheen is ideal for:
Industrial plants
Nursing homes
Cafeterias
Health clubs
Schools
Libraries
Hospitals
Clinics
Stadiums
Athletic surfaces
And many more
The Benefits of Flexi-Sheen are:
Protects floor surface
Improves slip resistance
Will not build up or yellow
Can be used with a high speed buffer for an excellent gloss
So when it comes to your rubber flooring, maintaining it with proper cleaning products, such as Flexi-Clean and Flexi-Sheen, and methods can keep it looking and performing well for years. It is very important for the longevity and safety of your floor that it is only cleaned with appropriate solutions. Flexi-Sheen conditions, protects and beautifies all at once on flat rubber and studded rubber floors. It also improves the prevention of slip and fall hazards. This product is available from Chemex Industries. Chemex has been providing environmentally friendly, effective industrial cleaning products for a wide range of businesses since 1973.