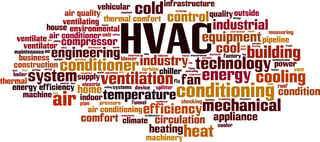 As we transition from winter into spring, with the summer season season a blink away, the pressure of maintaining your HVAC system in optimum condition, is typically is the responsibility of the plant maintenance department. Depending on where you are located and the climate, your cooling system may never rest, or it may just be coming out of hibernation. Either way, there could be severe concerns, if you aren't focused on keeping your system(s) maintained and clean. The certainty is that it is much easier and inexpensive to keep your HVAC clean and functioning, than it is to repair and deal with the collateral damage, associated with the related problems.
Air conditioning problems can stem from a number of causes, but the ripple effect of a down or damaged system can have much farther reaching consequences. Loss of inventory, temporary closures and major health hazards are only a few of the complications that can occur from HVAC issues. Luckily there are products and practices available that will keep your A/C (and your business) running smoothly.
Some common issues that may arise after an off-season or during the busy summer months are:
Clogged Drain Lines
Decreased Efficiency
Leaks
Dirty Coils
Any of these problems can create other issues. Clogged drain lines and condensate pan accumulations can lead to water damage and associated health hazards. Dirty coils and corrosion can increase energy costs and add stress to the system. Leaks can cause other property damage as well as damage to the unit itself. The good news is that there are preventative measures and remedies for each of these major problems.
Pan-Gel Gel Tabs with AT-8
Pan-Gel is a condensate drain pan treatment. These gel tabs are placed in the drain pan, and as moisture flows over the tab, a gel is formed locking the tab in place. This unique reaction prevents the tab from creating an obstruction near the drain line. The distinct gel formula with AT-8, allows the gel on the tab to be slowly released, allowing for a long-lasting, aggressive cleaning action. Any sludge, build-up or accumulation of dirt, soil or debris will be eliminated. Pan-Gel will prevent water damage from occurring due to an overflowing condensate pan. It will also help prevent stale water odors, the growth of pathogenic organisms, breathing problems and slip and fall hazards.
F-2002 Acid Replacement Cleaner
F-2002 is a powerful and safe multi-functional cleaner/descaler. It combines the high performance of an acid-based cleaner with the mildness of liquid dish soap. This solution will not compromise on cleaning ability and will leave users, surfaces and equipment safe from harmful acids. F-2002 can clean clogged condensate drain lines of heavy deposits and soil, preventing backup and water damage. Lime, calcium, hard water scale, mold, and mildew are quickly and safely removed from the inside of the lines, returning your A/C unit back to optimum condition.
Miracoil 2
Miracoil 2 is a non-acid A/C – HVAC cleaner. It is not uncommon for corrosion to build up on the surface of A/C coils. These accumulations can dramatically lower the efficiency of the machine and increase the operation costs as well as the deterioration of your system. Miracoil 2 deoxidizes the corrosion while removing dirt and sooty soil. Simply spray this application on and the corrosion will disappear. Its deep cleaning action creates foam to penetrate deeply in to the coil causing other soil and debris to float out without the potential for damage of fins from scrubbing or pressure washing. Better yet, Miracoil 2 is a non-solvent cleaner, so it is safe on all of your roofing materials as well. Using this product can extend the life of the unit and lower energy costs all with an environmentally safe and low labor formula.
HVAC Leak Detector – Low Temp Bubbles
One problem that can be major trouble for your unit and your facility is an A/C leak. Being able to diagnose and confirm this problem is the first step in repairing it. If you have to continuously add fluid to your system, you likely have a leak. If that is the case, identifying where the leak exists is vital. Low Temp Bubbles is an HVAC leak detector. It is specially formulated to detect leaks below 32 degrees Fahrenheit (it also works above freezing as well). This product contains special fluorescent dyes for increased visibility and is safe for most refrigerant and natural gas systems. It works well on both small and large leaks. Simply wipe the surface you are testing before applying, then daub or spray the bubbles on and around that location. Bubbles will quickly form if a leak exists.
While HVAC systems are complex machines, there are simple and safe maintenance steps and products available that can keep your unit running efficiently for years. The problems listed above are only a handful of the issues to be mindful of, but it is important to remember that discovering one of these too late can mean much more than an expensive A/C bill.
For environmentally friendly and effective cleaning and maintenance solutions, Chemex Industries has products that meet the needs for a wide range of industries and businesses.