Sanitizing and Disinfecting Irregular Surfaces - Electrostatic technology enables superior coverage
As your specialty chemical company of choice, Chemex knows full well that we live in a world of three dimensions. We constantly interact with objects that have height, width, and depth. These three spatial dimensions pose a problem for custodial crews, when attempting to clean and disinfect/sanitize surfaces. The various shapes of our environment consists of spherical, cylindrical and a multitude of other contours and configurations.
Most facility decision-makers, executive housekeepers and the their custodial staff recognize the merits of microfiber technology, dual mop systems, and such. Keeping a hard surfaced floor area disinfected, while using the auto scrub, should be a snap. It's conventional procedure, when using a mop and bucket, to clean most horizontal or vertical area of a classroom or the OR. Desktops and windowsills don't typically provide problems either. What's challenging is the third dimension.
Why do we hear so much about the occurrences of HAI's.? These incidences are not reducing in numbers! Occurrences of hospital-acquired C.difficile (HA-CDI) are on the rise. Monitoring practices, using ATP units certainly support the necessity to disinfect these areas, as required.
All training programs must stress the dire consequences of attempting to disinfect a surface, that has not been cleaned properly. The removal of soil and contaminants from surfaces must be achieved, prior to removing pathogens from contaminated surfaces.
When we swab a bed rail does the backside provide evidence of microbes? Do the underside of desks, ever get treated, by custodial staff, in the typical school or college? Are there touch points on gurneys and patient's beds that are not treated because they are so difficult to reach? In athletic facilities, do the shower areas have surface areas left exposed. Costs related to professional athletes, sidelined because of CA MRSA infections are astronomical.
There's new technology from Clorox Healthcare to resolve these critical issues.
Electrostatic technology enables superior coverage of Clorox-trusted solutions in hard-to-reach places — the side, underside and backside of surfaces.
Clorox Total 360 System utilizes Electrostatic Technology, to provide superior coverage compared to conventional disinfecting tools. The revolutionary Clorox®Total 360™System is paired with Clorox®trusted solutions. -It provides superior coverage through its proven electrostatic technology and delivers Clorox®disinfectants and sanitizers onto hard-to-reach surfaces. The Clorox®Total 360™System helps keep your facility healthier while also saving you time, money and labor.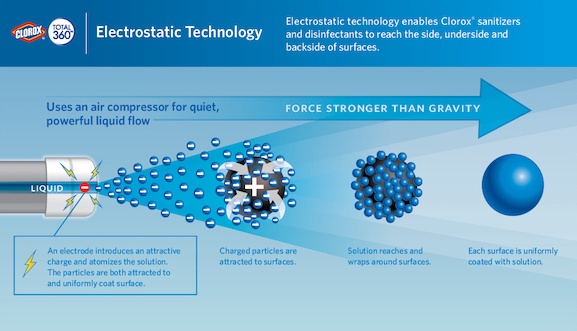 Easily deliver Clorox-approved products to hard-to-reach places.
This new technology from Clorox Healthcare is truly a game changer.
Public Relations Support
With your investment in the Clorox® Total 360™ System, Clorox Professional will partner with you to help inform internal and external audiences, as well as the broader community, about your facility's superior cleaning protocols and effort to reduce germs and prevent illnesses.
Time, of course is considered the fourth dimension and the electrostatic process will save up to four times the time and effort necessary.
Saves time: Works up to 4x faster*
Saves labor: Covers up to 18,000 ft2/hour
Saves money: Uses up to 65% less solution
Please contact us to learn more about the Clorox Total 360 System and our special offer.