Superior Electrostatic Coverage with Trusted Clorox® Products, for the Ultimate Disinfecting Solution
Easily deliver Clorox-approved products to hard-to-reach places.
The Cost-Effective Solution for Superior Surface Coverage
The revolutionary Clorox® Total 360™ System is an electrostatic sprayer paired with Clorox®trusted solutions. It provides superior coverage through proven electrostatic technology and delivers Clorox® disinfectants and sanitizers onto hard-to-reach surfaces. The Clorox® Total 360™ System helps keep your facility healthier while also saving you time, money and labor.
Saves time: Works up to 4 x faster*
Saves labor: Covers up to 18,000 ft2/hour
Saves money: Uses up to 65% less solution*
Please call for special pricing
Introduction to Clorox® Total 360™ Electrostatic Technology
Electrostatic technology enables superior coverage of Clorox-trusted solutions in hard-to-reach places
— the side, underside and backside of surfaces.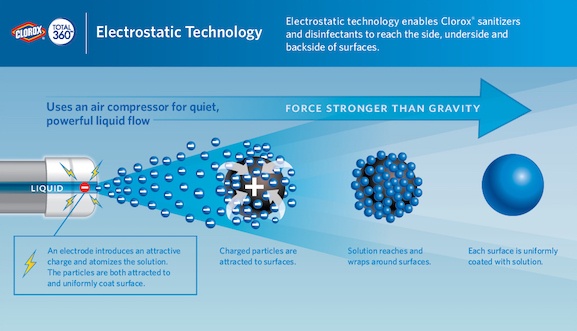 Public Relations Support
With your investment in the Clorox® Total 360™ System, Clorox Professional will partner with you to help inform internal and external audiences, as well as the broader community, about your facility's superior cleaning protocols and effort to reduce germs and prevent illnesses.
Clorox Professional's public relations team can help you:
Generate local media coverage that highlights your investment in the Clorox® Total 360™ System and the efforts you are making to prevent illness-related outbreaks.
Share information, answer frequently asked questions and guide conversations about your use of the Clorox® Total 360™ System
Warranty
One-year limited warranty

Support for the Clorox® Total 360™ System

Necessary parts and labor to restore equipment to its proper operating condition