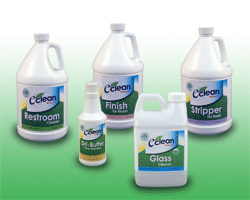 It is quite confusing to determine what constitutes "green" these days…
Questions emerge like:
What criteria do we need to follow?
What constitutes "green"?
When are we required to implement these programs?
Who sets the standards?

In October 1993 President Clinton issued Executive Order 12873, known as Federal Acquisition, Recycling, and Waste Prevention. The purpose of this order was to more effectively utilize the vast purchasing power of the government to procure products that are environmentally preferable. By acting "as an enlightened, environmentally conscious and concerned consumer," the federal government would be able to maximize recycling and encourage development of markets for environmentally friendly products which would benefit the economy and the environment.
In short, Executive Order 12783 required federal agencies to identify and purchase products that had reduced human health and safety impacts, as well as products preferable for the environment.

Nearly 20 years later, we are still fumbling to comprehend the green standard.
There are many agencies that certify products based on their set of criteria/standards.

"Green Seal" is one well-known name. "GS-37" is Green Seal's environmental standard for cleaning and degreasing agents.

EPA's "DfE" (Design for the Environment) program uses their chemical assessment tools and expertise to inform substitution to safer chemistries. "DfE" focuses on industries that combine the potential for chemical risk reduction and improvements in energy efficiency with a strong motivation to make lasting, positive changes.

Eco Logo is another widely recognized and respected certification of environmental leadership. By setting standards and certifying products in more than 120 categories, EcoLogo helps identify, environmentally preferable ("green") goods and services

Greenstar is an independent not-for-profit organization. Its purpose is to achieve a cleaner, healthier and sustainable world through the identification and promotion of products that are produced and used in an environmentally sound manner.

The CRI, "Carpet & Rug Institute", also has a certification process.

Confusing, right??

There's even more confusion, when using 100% renewable & bio-degradable products, and you're eligible for LEED-EB certification, and attempting to comprehend the point system.

Our goal at Chemex is to offer products which are superior from an environmental and health & safety perspective.
These are products that:
Will compete with conventional products on both performance and price
Are safer for both the user and the workplace environment
Will clean our world without harming Nature's balance

Green Cleaning in Schools & the Workplace:

With large groups of children, confined to areas, including classrooms, cafeterias and auditoriums, the likelihood of spreading disease is much greater. Hard surfaces including floors, walls, desks, tables, door knobs, light switches, and carpeted areas, become a breeding ground for bacteria & viruses. The extent to which disease can spread is directly related to the level of cleanliness. Both schools and the workplace, with their focus on creating a healthier environment, are successfully employing "green" cleaning chemicals along with proven procedures, to maintain a high degree of hygiene and to eliminate cross contamination.

This endeavor has been shown to reduce absenteeism both on the job and in the classroom.

Training is instrumental in the development of a green program and Chemex has the most complete product listing and training seminars in place. Call us for more information or to schedule a seminar.
Some newer areas of green cleaning products include: safe disinfectants, carpet stain removers, grout cleaning, upholstery cleaners, odor removal and cooling water chemicals.