Are you happy with your choice of installing a water free (Waterless) urinal? Most engineers agree with the concept of "going green" and water savings. However, the current cartridges found in water free urinals are causing massive concerns for maintenance personnel. The drains are constantly clogging due to the super saturation of urinal salts (uratic salts) released from these cartridges. Additionally, the fluid (odor blanket) is effortlessly discarded by someone spilling soda, coffe or other liquid into the urinal. -That causes the odor problems.
Whats more- the removal of these cartridges is a disgusting, messy, smelly, chore.
User and servicing entity have high probability of being exposed to sewer gases, bacteria and viruses
High probability of "dry drain" from bacteria and water scale build up creating lumps of uric acid large enough to block the plumbing.
A major airport in Southern California has already removed their water free urinals.
Traditionally, most urinals are changed out every 2-3 months at a cost of approximately $40.00 per cartridge. That's very costly and also represents a huge impact environmentally, especially the waste created in our landfills.
There's a much more sensible and practical alternative.
The "Green Cartridge" is a patented, chemical free cartridge made of white ABS plastic and is a retrofit, made to fill ALL water free urinals. You can read more about the "Green Cartridge here".
Virtually odorless
Minimizes uratatic salts buildup in plumbing
Installation takes moments and cleaning is much more sanitary
Cartridge housing is permanent: 5 Year Warranty
Cartridge core, with proper maintenance can last one year or more
Use disinfectants and typical bowl cleaners as regular maintenance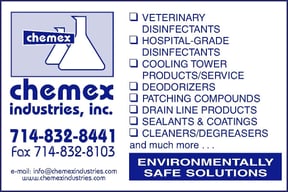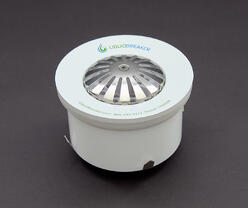 New Green Cartridge has a Stainless Steel Strainer. NOW AVAILABLE!
Contact us for more info...
Chemex Industries, Inc. 714-832-8441
Barry@chemexindustries.com