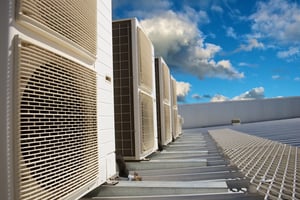 There are few things more refreshing than stepping into a building to escape the sweltering heat. However as effective and efficient as HVAC technology has become, the laws of physics can still take their toll on a system. One of the most common problems that plague air conditioners stems from the drainage pan, or drain trap. While a drainage pan problem can create bigger issues for your air conditioner and cause other physical damage to your infrastructure, it can also cause a significant health hazard.
Air Conditioner Drainage Pan Basics
Drainage, or drip, pans are in place to collect the condensate that is created by the evaporator coil of an air conditioner. As this condensate fills the pan it is routed to a drain line and taken away. Based on the environment and operation of an air conditioner, the drainage pan and drain line are inherently problematic. It is very common for dirt, dust, mildew, mold, soil particles, bacteria and other debris to be found in the drainage pan. As the condensate begins to fill the pan and drain away, it serves as a vehicle for all of these elements to enter the drain line and clog it. Couple this propensity to clog with the typically dark, humid and poorly ventilated locations of central A/C units and the conditions are ideal for the growth of mold, fungus, algae and harmful bacteria.
Problems Caused by Air Conditioner Drain Line Clogs
A constantly clogged drain line can cause the drainage pan to overflow with condensate, and any debris it may be carrying. This can cause a variety of additional problems in addition to damaging the unit.
Water Damage

Stained Carpets
Water Marks
Sheetrock Damage

Health Hazards

Pathogenic Organisms
Breathing Problems (i.e. Lung Infections)
Slipping Hazards
Safe and Effective Solutions to Air Conditioner Drainage Line Clogs
Now that the signs and damage caused by a simple clog have been identified, let's identify a safe, effective, simple solution. Pan-Gel geltabs with AT-8 serve not only as a remedy, but also as an automatic maintenance plan. Pan-Gel's unique approach to A/C drain pan treatment is due to its locking ability. Where many devices will float inside of the pan, potentially ending up over the drain and creating a blockage, Pan-Gel adheres to the bottom of the drip pan and remains stationary. As the condensate (moisture) either drips on, or flows over the Pan-Gel geltab, it forms a gel that locks the tab in place, preventing it from creating an obstruction.
Once the tab is set, its unique formula consisting of AT-8 turns into a very slowly releasing gel. This gel creates a positive, long lasting and aggressive cleaning action. This gel tab cleans the accumulated sludge caused by: dirt, dust, soil particles, mold, algae and any other debris that was in the drain pan. As this gel moves across the drain pan and through the lines it eliminates any blockages as well as stale water odors.
Pan-Gel Gel Tab Features
Gel Tabs Lock Into Place
No Noxious Fumes
No Chlorine
Works Immediately
Slow & Continuous Release
Prevents Expensive Repairs
Provides Up To Six Months Of Service
Prevents Disease & Odor Causing Bacteria
Controls Odors
Prevents Overflows
Non-Toxic
Non-Corrosive
Cost-Effective
Pan-Gel Gel Tabs Are Perfect For:
Hospitals
Schools
Hotels
Supermarkets
Prisons
Institutional Facilities
Industrial Facilities
Nursing Homes
Apartments
And More…
Reduce the stress on your maintenance resources and prevent expensive facility damage and costly health hazards by keep your A/C drainage pans clean and clear with Pan-Gel.