SPEC2 - Disinfectant Wipes
Eliminate Bacteria in Just 2 Minutes!
Kills Pandemic 2009 H1N1 Influenza A Virus (Formerly Called Swine Flu)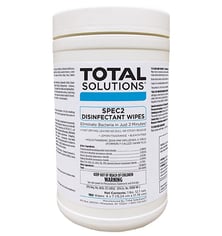 SPEC2 balances an extremely quick, 2 minute dwell time with a powerful, yet safe, formula to clean and disinfect a wide variety of surfaces. With a formulation that is alcohol-free, bleach-free, phenol-free, and that won't leave a sticky or dull residue, SPEC2 is ideal for cleaning, disinfecting and deodorizing hard, non-porous, inanimate surfaces in many applications. SPEC2 is effective against a broad range of bacteria and disinfects in only 2 minutes. Available in 180-ct. canisters or 900-ct. refill rolls for use in our Large Center-ull Dispenser for high-volume applications.
Effective Against:
• Avian Influenza A • Listeria monocytogenes
• Klebsiella pneumoniae • Campylobacter jejuni
• Escherichia coli (E.coli) • Rotavirus • Streptococcus pyogenes
• Salmonella enterica • Staphylococcus aureus • Herpes Simplex Virus 1 & 2
• Hepatitis B & C Virus • And many others...
Hospital Grade Disinfectant Wipes.