RX-75 RTU Disinfectant Cleaner
Kills Mycobacterium tuberculosis bacilli
Antibacterial heavy-duty cleaner and odor counteractant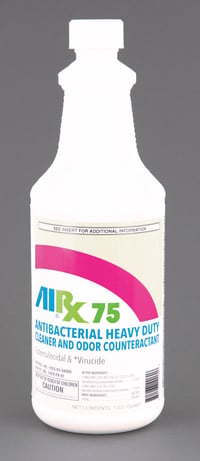 The ability to kill Mycobacterium tuberculosis bacilli (BCG) is a requirement for use of a product for clean-up of blood spills, yet many quaternary disinfectant cleaners do not meet that requirement. RX 75, however, does. The problem is that BCG is protected by a tough shell that the typical quat formula cannot pierce. The superior penetration of RX 75 allows it to break through that shell.
Other Cleaning Solutions Make Huge Claims On Their Killing Capacity... BUT:
As a buyer of cleaning solutions for your facility, you are most likely searching for ways to reduce your cleaning costs - and based on current trends, many operations people are recognizing 50% - 66% or faster cleaning times with RX-75. And you will too! If you or someone in your facility would like to take advantage of RX-75's powerful cleaning capabilities, contact us.
Some of the key features of RX-75 are:
Kills Most Organisms in 3 Minutes (The Industry Average is 10 Minutes)
Kills Norwalk Virus in 30 Seconds (Typical Outbreak on Cruise Ships) Kills Hepatitis A (HAV) As Well As HIV-1) AND HCV (10 Min. Contact Time)
Kills TB in 5 Minutes, Instead of 10 Minutes
Kills Human Coronavirus In 2 Minutes
Kills Rabies Virus in 30 seconds
Kills Bovine Viral diarrhea virus (BVDV) in 10 minutes
Kills Feline Calcivirus in 30 seconds