REMEDIATE Bio-Enzymatic Cleaner Degreaser
A powerful Grease-Attacking Solution, Providing Deep Cleaning and Slip Resistance
Grease-Attacking / Anti-Slip - Bio-Enzymatic Digester
Excellent Odor Control - Surface & Sub-Surface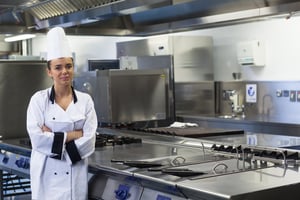 REMEDIATE is a specially formulated microbial cleaner designed to safely clean and degrease food-grade oils, fats, protein, cellulose, starch, human and animal waste. -That makes it an ideal choice for food service areas as well as animal care. This is a concentrated formulation, that in dilution, will penetrate into all cracks, crevices, and pores of the surface allowing deep cleaning without leaving any chemical residue.
Safe to use on concrete, metal, plastic, asphalt, or coated/sealed surfaces.
REMEDIATE is a no-rinse cleaner, for daily use on both hard and porous surfaces such as concrete, quarry tile and brick.
It is designed to clean grease, grime, spoiled food, vomit, urine, feces and other organic spills on kitchen and restroom floors. Its unique formula contains selected strains of natural enzyme-producing bacteria. These special strains of bacteria are efficient at digesting organic waste to eliminate waste and odors at their source. Safe to use on all surfaces not harmed by water.
An excellent Grout Cleaner
Use on Concrete, Quarry Tile, Ceramic Tile, Brick
High dilution rate of 4 oz. per gallon
Deodorizes too!
All Natural
Eliminates Waste & Odors
Safe To Use
Non-Flammable
A Must-Have in Kitchens and Food Prep areas
Deep Cleaning Action
Makes Floors More Slip-Resistant
Use in Shower Areas