Permashield Premium Graffiti Resistant Coating
Environmentally Friendly Graffiti Control System
For Permanent Graffiti Control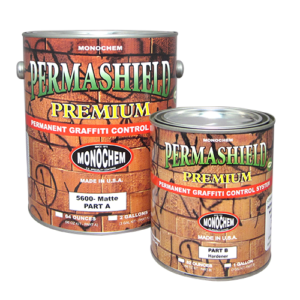 Two-Part Aliphatic Polyurethane Coating that provides a permanent solution to graffiti control. Backed by a 10-Year Warranty, Permashield Premium can withstand multiple taggings and cleanings, caused by spray paints, markers and other chemicals/contaminants. It provides a clear protective coating for painted or unpainted surfaces including concrete, masonry, stucco, tile, metal, artistic murals and signs.
Environmentally Friendly, ZERO VOC
Permanent Graffiti Solution
Available in Matte or Gloss Finish
UV, Stain, Chemical and Hot Tire Resistant
MPI#105 Graffiti Protection Topcoat
PERMASHIELD PREMIUM is the most advanced environmentally friendly formulation for Permanent Graffiti Control, utilizing an easy to use graffiti removal system. PERMASHIELD PREMIUM is intended for use on unpainted or painted concrete, masonry, stucco, prepared metal, EIFS, murals, signs and other surfaces. It creates a clear protective, UV resistant coating where graffiti tagging can be removed without affecting the appearance of the substrate.
• ZERO VOC: No fumes, odor or induction time
• 10 Year Unlimited Warranty for Graffiti Removals
• State and City Approved
• UV, Stain, Chemical and Hot Tire Resistant
• Available in a Clear or Pigmented System to match any architectural tone or finish
• Available in Matte (<5°) and High Gloss (>90°)
• Non-Yellowing, Non Chalking, Breathable
• May be used as a Dry Erase Coating
See Full Technical Data Including Application Instructions
Please call with your questions regarding the removal of graffiti
and the application of graffiti resistant coatings.