Minute Mend Epoxy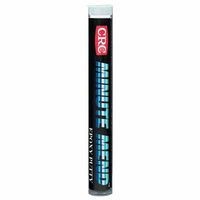 Recommended to permanently repair scratches, gouges and holes in drums, tanks, castings, molds, sinks, tubs and leaky gaskets; to perform routine electrical jobs such as mounting terminal blocks, packing wires and repairing breaker boxes; to stop leaks; even under water, and to be used in plumbing, electrical, ceramic, as well as vehicle and machinery repair.
Specially Formulated. Bonds to both wet and dry surfaces and can be applied under water. • Versatile. Bonds to wood, steel, fiberglass, glass, ceramics, plastic, concrete and aluminum.
• Convenient. Ready to use in less than one minute. • Multiple Uses. Can be tapped, sawed, drilled, machined, stained or painted.
• No Fire or Flash Point. Safe for use in many applications.
Stops leaks even under water
Bonds to both wet and dry surfaces and

can be applied under water

Can be tapped, sawed, drilled, machined, stained or painted
Convenient. Ready to use in less than one minute