HEPA Pro 10 from Sterling NA
Model: HEPAPro 10
Item Number: 125-1206-20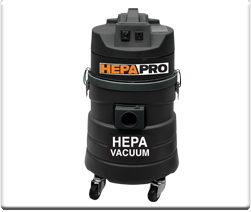 Sterling's HEPAPro 10 is a portable HEPA Vacuum offering professional features and performance at a very economical price. This powerful 2-horsepower HEPA vacuum is equipped with an individually tested and certified HEPA Filter providing a minimum efficiency of 99.97% at .3 microns. The HEPAPro 10 is a genuine HEPA vacuum that can be used for safe and efficient pick-up of hazardous materials including asbestos, lead, mold and crystalline silica.

The HEPA 10 PRO features:
2HP Commercial grade, 2-stage bypass motor for quick, complete recovery of most types of hazardous materials.
Individually tested and certied HEPA Filter, minimum eciency of 99.97% at .3 microns based on particle count test method, IEST-RP-CC001.