Fuzion Cleaner Disinfectant - NEW from CLOROX
Bleach efficacy that's easy on surfaces
Clorox Healthcare FUZION Cleaner Disinfectant combines the proven power of bleach with excellent aesthetics for broad use throughout the facility
Kills C. diff in 2 Minutes: Hypochlorous acid solution is a strong oxidizer and highly effective surface disinfectant
Broad Surface Compatibility: Safe for use on stainless steel, clear plastics, finishes wood and many other common surfaces
Low Residue: Leaves surfaces looking clean, not cloudy.
Low Odor: Mild odor dissipates in minutes
Easy to Use: No PPE required
Excellent surface compatibility
Using Fusion eliminates the need to make trade offs between efficacy and surface compatibility. Fuzion is a pH-neutral formula that won't cause damage to common surfaces.
Fuzion can be used safely on stainless steel,chrome, countertops, sinks, mattress covers, glazed tiles - even clear plastics and glass.
In outside laboratory testing, Fuzion left significantly less residue on a clear acrylic surface compared to a quat/alcohol and a peracetic acid/hydrogen peroxide disinfectant.
Fuzion enables facilities to use bleach in more places, providing strong protection against the spread of pathogens on surfaces.
See 36 Claims for use on hard, nonporous surfaces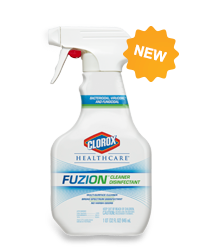 Kills Clostridium difficile spores in 2 minutes
Fuzion™ uses a revolutionary technology to eliminate the chemical reaction that can damage surfaces and leave a residue. The solution contains sodium hypochlorite and a neutralizer that, when combined, form hypochlorous acid.
Over a period of 4-5 minutes after spraying on a surface, the neutralizer breaks down the bleach solution so that only water and a small amount of salt remain. The result is a highly effective disinfectant with broad surface compatibility and little to no residue.