Flo-Quat
Sanitizer For Food Contact Surfaces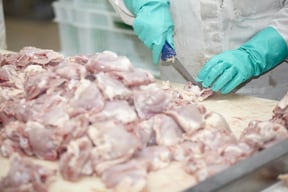 Disinfectant – Sanitizer - Deodorizer - Virucide*- With Organic Soil Tolerance For Institutional, Industrial, School, Food Handling and Process Areas, Federally Inspected Meat and Poultry Plants
FLO-QUAT is a blend of dual quaternary ammonium chlorides formulated for a broad spectrum of action against both gram positive and gram negative organisms. It has a high tolerance to hard water without losing its effectiveness. It can also be used on food contact surfaces without a potable water rinse. It is effective in the presence of organic soil.
Disinfects, sanitizes, deodorizes Control cross infection – hazard Broad spectrum action.
Use as sanitizer on food contact surfaces. Dual QUAT. Provides synergistic action. Effective in hard or soft water.