Permashield 200 USDA Approved & Universally Compliant
2K Water Based Aliphatic Polyurethane
PERMASHIELD 200 is the most advanced two-component water-based aliphatic polyurethane on the market. The unique high performance structure exhibits outstanding film hardness and excellent resistance against abrasions, chemicals, stains, direct/reverse impacts and ultraviolet light.
Universally Compliant, Environmentally Friendly, Low VOC
HAPS Free (Hazardous Air Pollutants), No Fumes
Suitable for USDA Inspected Facilities
Top Tier Chemical Resistance against oils, skydrol, battery acid, urine
Top Tier Chemical Resistance, Solvent, Water, Oil and Graffiti Resistance
Outstanding Hardness, Durability and Abrasion Resistance
Top Tier Cleanability and Stain Resistance
Resistant to Hot Tire Pick-Up
Flash Rust Inhibitive formula for DTM Environments
Creates a Top Tier Dry Erase Environment When Applied to a Surface
High Solids, Versatile General Maintenance Coating
Available in High Gloss 90°, Matte 5°, Clear or pigmented to

any color

When the surface temperature is between 50-70°F, PERMASHIELD 200 can be accelerated for same day return to service.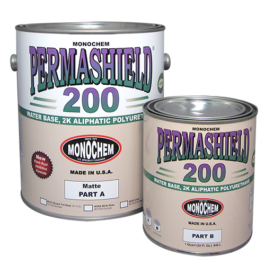 BASIC USES:
PERMASHIELD 200 can be applied to interior, exterior, vertical or horizontal, concrete, masonry, stucco, wood, vinyl-composite tile (VCT), and prepared ferrous and non ferrous metals, etc. It can be used as an industrial or residential coating for: commercial buildings, convention centers, stadiums, hospitals, warehouse floors, garages, universities, airports, shopping centers, schools, food processing plants, transportation, government facilities, etc.
For: Vertical / Horizontal / Interior / Exterior - Mass Transit, Government Facilities, Schools...
PERMASHIELD 200 is urine resistant for use in pet & dog kennels.
PERMASHIELD 200 can be applied directly to cleaned and properly prepared coatings like water based acrylics, epoxies and urethanes. Abrade and clean the previous paint to provide tooth for the new coating.
In all applications, we require conducting a test patch to ensure proper compatibility, adhesion and appearance. All surfaces must be tested before doing the entire project. Prime with MONOCHEM 21 if there are adhesion issues with PERMASHIELD 200.

RECOMMENDED PRIMERS:
MONOCHEM 21: Ideal for non-porous surfaces and coating over water/oil solvents, alkyd, unknown based coatings. MONOBOND: Ideal for coating over single component water based coatings and most smoother surfaces.
AQUAPRIME: For surfaces containing a pH of 8-16. MONOBOND RI: For surfaces requiring a rust inhibitive primer.
Dry Times: Light Foot Traffic- 24 hours / Normal Foot traffic - 48 hours / Hot Tire & Heavy Exposure - 5 days
Adhesion Thickness: Up to 2.5 Dry mils (5 wet mills) per coat
Application Methods: Rolling & Spraying recommended.
Surface temperature during application: 50 - 90 F
Clear and colored non-skid additives are available
ACCELERATOR P200:
Accelerator P200 Technical Data
Accelerator P200 is a liquid additive designed to minimize the Permashield 200's cure time, for a quicker return to service. - Please contact us for more information.

Permashield 200 - Technical Data HERE