Provides Quick Control
Keeps on Working for Up to Six Months
Contains the Botanical Insecticide Pyrethrum, an Extract of the Chrysanthemum Flower
Kills Insects on Contact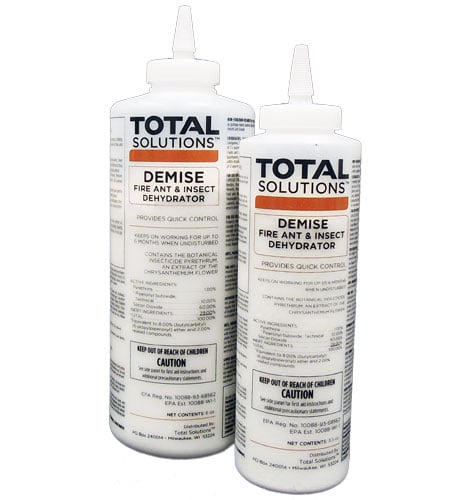 This powdered insecticide saps the life out of fire ants and other insects by literally draining them of their moisture. Just sprinkle some powder on or around ant hills and other entrances, then as soon as they track through it, the active ingredient silicon dioxide immediately begins to "suck" valuable moisture from their bodies. Best of all, if the insects are able to crawl back into the nest, the powder continues to cling to their bodies and contaminates the rest of the colony.
Features and Benefits
♦ Contains pyrethrin for quick knockdown; and silicon dioxide which dehydrates insects on contact.
♦ Powder clings to the body hairs of insects and is carried back to the nesting area.
♦ Works up to 6 months after application.
♦ Available in an easy-to-use puffer bottle.
Effective Against: Cockroaches • Centipedes • Termites • Scorpions • Ants • Mites • Grain Mites • Silverfish • Earwigs • Crickets • Hornets • Sowbugs • Ticks • Dark Mealworms • Lice • Spiders • Bedbugs • Dermestids • Millipedes • Beetles
Active Ingredients Amount Active
Pyrethrin ……………………………………………………………………… … 1.0%
Piperonyl butoxide……………………………………………………………… 10%
Silicone Dioxide…………………………………………………………………. 60%
Quantities:
8 pound pail (Five gallon plastic pail)
6 x 6 oz. case (6 oz. in quart bottles)
12 x 3.5 oz. case (3.5 oz. in pint bottles)