Clorox Scentiva® Disinfecting Multi-Surface Cleaner
Clean and disinfect all in one easy step
Clorox® Scentiva® Disinfecting Multi-Surface Cleaner combines the trusted power of Clorox with amazing scents to clean, disinfect, deodorize and freshen the home without any harsh chemical smells.


Powerful Clean. Captivating Scent.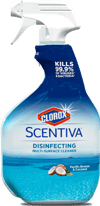 • Kills 99.9% of viruses* and bacteria
• Powers through tough grease and grime
• Four amazing scents: Tuscan Lavender & Jasmine, Pacific Breeze & Coconut, Hawaiian Sunshine™ and Fresh Brazilian Blossoms
Our powerful Clorox Scentiva® cleaners don't just wipe out dirt and kill germs; they inspire the senses. It's time to experience the difference Scentiva can make for you. Breathe in, you're home.


No harsh chemical smell.
Kills viruses and bacteria, including human coronavirus and Influenza A2 virus.
Ideal for use in hospitality facilities, restaurants, public restrooms and other commercial facilities.
Powers through grease, soap scum and grime.
Safe to use on a variety of surfaces including tile, finished hardwood, mirrors and glass.
Clean and disinfect all in one easy step.
32 oz. Bottle w/Sprayer - 6/Carton
.