Revolutionary Food-Safe Sanitizer
Kill 99.9% of bacteria with a spray that's pH balanced for use around people and food-contact surfaces.
Kills 99.9% of bacteria that cause foodborne illness

Gentle as water

Labor-saving, no-rinse formula

Mild enough to use around kids pets and food

Sanitizes hard, nonporous, food-contact surfaces in 2 minutes

Designed to meet the needs of foodservice operators

Eliminates buckets and rags for sanitizing

Eliminates the need to test ppm level

The easy way to sanitize food service operations: dining areas,
countertops, checkouts
Eliminates food odors like garlic and onion left behind on kitchen
surfaces after cooking
Kills 99.999% of bacteria Salmonella typhi and E. coli, on food
contact surfaces, food preparation surfaces, food serving areas
Kills] [eliminates/ destroys/ removes - 99.9% of bacteria that
antibacterial dish soap leaves behind

Reduces [allergens] [dust mite matter] [pet dander]

Sanitizes food serving areas [without rinsing]

Escherichia coli [E. coli], Klebsiella pneumoniae, Proteus
mirabilis, Salmonella enterica tested as Salmonella choleraesuis
[Salmonella], Salmonella typhi [Salmonella], Staphylococcus aureus
[Staph], Streptococcus pneumoniae [Strep]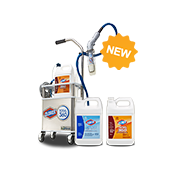 Kills 99.9% of Bacteria That Causes Foodborne Illness
Clorox® Anywhere® Hard Surface Sanitizing Spray eliminates common illness-causing bacteria, including Salmonella enterica (salmonella), Escherichia coli (E. coli), Staphylococcus aureus (staph) and Streptococcus pneumoniae (strep).
Gentle as Water
While the spray is tough on bacteria, it's also mild enough to use around kids, pets and food. The versatile pH-balanced formula can be used on most surfaces anytime, anywhere...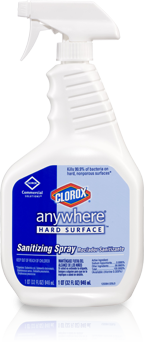 Labor-Saving Formula
Clean and sanitize in one step with no rinsing required
Directions for Use:
To Sanitize Food-contact Surfaces: Spray on surface until thoroughly wet. Let stand for two minutes. Wipe with a paper towel or clean dishtowel, if you like. No rinsing is necessary.
Organisms (list 2): *, t Escherichia coli [E. coli], Salmonella typhi [Salmonella]
SPONGES: To prevent, stop, control odors caused by bacteria in your sponge[s], spray sponge with this product until saturated and let stand 5 minutes.
For Use in Our Clorox Total 360 System