Clarke Orbital Scrubbing Floor Machines
Experience a more powerful clean.
Don't let the compact size fool you: the FM40™ has a full 1.5 horsepower motor, 160 pounds of down pressure and a 3,540 RPM pad driver. That means cleaner floors with fewer passes and less strain on the operator.
Accomplish more with less.
With a standardized 14 inch x 20 inch pad deck, the versatile FM40 is an ideal replacement for a variety of other equipment, too. In addition to scrubbing small, hard-to-reach areas where using a large autoscrubber doesn't make sense, the FM40 also supplements Clarke BOOST machines to perform chemical-free floor finish removal. When paired with the appropriate pads, the FM40 floor machine can even be used to clean grout in bathrooms, prep gym floors for recoats, bonnet clean carpet, and burnish terrazzo, marble, and concrete.
Baseboard cleaning.
Now you can clean baseboards without having to purchase a separate machine, or worse, getting down on your hands and knees to scrub. That's because the FM40 LX comes standard with an innovative baseboard cleaner attachment. This simple device easily attaches to the front of the machine to provide a convenient alternative for cleaning baseboards.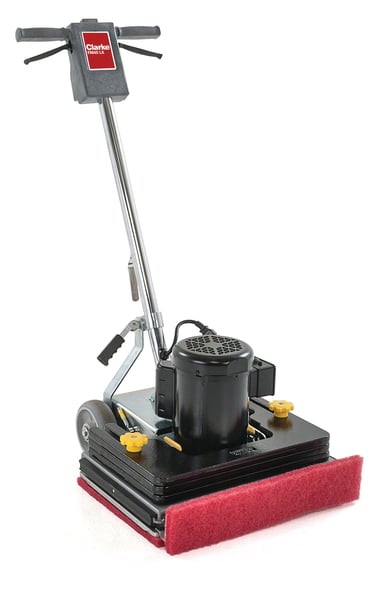 See Technical Report and Specifications
Powerful Performance - Versatile Application
Built on the legacy of its predessor, the BOS-18, The Clarke FM40 represents a significant step forward for Clarke orbital scrubbing floor machines. Available in a standard St version and a feature deluxe LX edition, the FM40 is engineered to deliver the ultimate combination of ease of use and versatility for unmatched performance in both wet and dry applications.