Auto/Truck Wash & Wax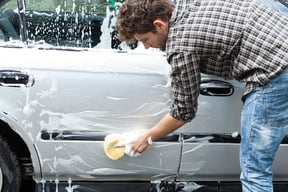 Wash & Wax is a heavy-duty automobile and truck wash. When used through a pressure washer with 600 psi, this product removes road film, grease, grime and soils. This product is a unique combination of emulsifiers, wetting agents and soil suspension agents. Very effective even in hard water. Dilute with hot water at the rate of 1 oz. per gallon and with cold water at the rate of 4 oz. per gallon. Removes the grease, grime and soils along with road film that conventional automotive cleaners can't touch.
Can be used at higher concentrations if conditions warrant. Leaves a waxy sheen.
Biodegradable.