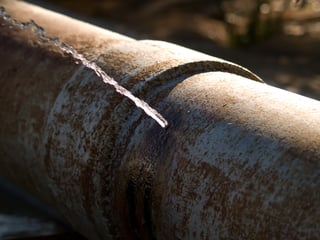 Ruined inventory, compromised product components, and infrastructure damage are only a few of the headaches and heartaches that come along with leaks at your business site. While the dollar signs begin to add up when you consider replacing your inventory and repairing the damage, it can pale in comparison to the lost revenue and opportunities when you shut down to address the problem at its source.
Depending on where the leak begins and where it finds its way into your store, service area, production line, or any other area your property, the complexity of finding a solution can vary greatly. While there are steps that need to be taken to completely remedy the problem, losing production time, losing revenue, and investing in an expensive repair no longer has to be your only option.
Based on the size of your roof, or the area that is allowing water infiltration, the average cost of a roofing repair from a contractor is over $600. However based on how extensive the damage is, the cost can soar into the thousands. While you can't operate with water and other fluids creating damage, you also don't need to close your doors and spend a fortune in order to repair it. This is where Rapid Seal A comes in.
Rapid Seal A – Aerosol Roof Patch & Leak Sealer
With Rapid Seal A, the effective solution to roof and leak repair can fit in your hand. What makes Rapid Seal so effective is that is stays flexible and is impervious to extreme temperature swings. It won't drip or stretch in the summer and it won't crack or peel in the winter. Its aerosol application makes it easy to reach even the most difficult places.
Gutters
Downspouts
Flashing
Roofs of all materials

Asphalt
Fiberglass
Tile
Slate
Wood
Gravel
Rapid Seal A seals out the elements that can create further damage. It also works perfectly on wet surfaces. An additional benefit of this product is that is seals out rust and corrosion as well.
When you find a leak, notice a potential problem area, or need to repair a crack, or prevent rust and corrosion, don't call your contractor, pick up a can of Rapid Seal A. Rapid Seal A is just one of the many products offered by Chemex Industries. Chemex has a focus on environmentally friendly products and other applications to meet the needs of a wide range of industries and businesses.