Keep safe, avoid fires and eruptions, in your production areas.
Our industrial operations utilize electric motors, generators, bearings, water meters and much more, in the typical plant. Its highly recommended to maintain this equipment, as part of your maintenance protocol.
Using a solvent cleaner is the only method to remove petroleum oils, tar and wax from these surfaces. The majority of these solvents are considered safe on all metals and insulation. Using products in the naphtha, kerosene or diesel family have typically been in use for these operations. The major problem, of course is that they are highly flammable as well as other pose other environmental and health concerns.
The product of choice is a non-flammable, non-conductive degreaser high purity solvent. This product allows the maintenance engineer the ability to clean the equipment, while in operation. There is NO flashpoint. Additionally, it dries quickly with no residue.
Our product contains no soaps, no synthetics, no fillers, no alkalies or acids.
Please view our Technical Report for additional data and the many applications for KWIK DRI, Non-Flammable Safety Solvent.
Once again, it's non-conductive - 29,000 volt dielectric and non-flammable. It dries quickly and leaves no residue. Can be used on electric motors, generators or other electrical equipment while they are operating.It's safe on all metals. Aluminum, brass and copper-plated parts are not adversely affected.
KWIK DRI Is VOC compliant in ALL states.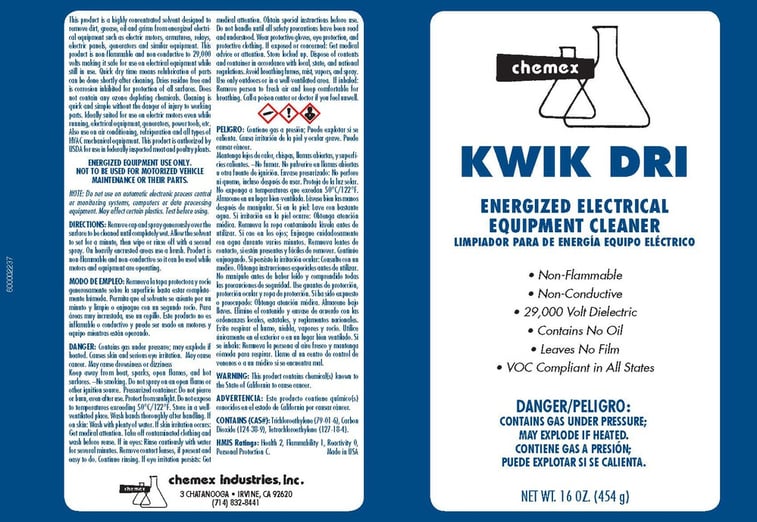 Ideal for use on electrical motors, power tools, ice machines, refrigeration units, generators & vending machines

Ideal for use on motors & energized elelctrical equipment, while in operation