If you're finding us for the first time - Welcome!
Chemex, your specialty chemical company of choice, offers many training seminars for our customer base. Topics range from industrial coatings, drain maintenance and related concerns relevant to maintenance managers and building engineers.
I've been getting requests for information on how to remove layers of rust on various surfaces, without the impact of creating hazardous waste, associated with typical rust removers. This is quite typical in manufacturing concerns, especially where work is performed outdoors.
Fortunately, there's an easy resolution to this problem. Its accomplished with a rust converter. This is not a new product, however its been perfected recently and with exceptional results. Rust forms when the iron in steel oxidizes and becomes iron oxide. -Remember rust never sleeps. The rust converter product easily converts the iron oxide to ferric oxide, a substance that stops the rust and forms a stable metal primer. This conversion results in a protective chemical barrier that is highly resistant to moisture and protects the surface from further corrosion.
Rust converter is usually applied to objects which are difficult to sand blast, such as vehicles, trailers, fences, iron railings, sheet metal, and the outside of storage tanks. It may also be used to restore and preserve iron-based items of historical importance.
This one-step process provides a surface coating that is a smooth and ready for wear. A top coat if desired, will result in a uniform color, extended wear and also provide additional protection. Rust Converter is a ready to use product that's applied by brush, roller or spray gun. One gallon will cover up to 500 sq. ft. Excellent for use in marine environments.
Chemex has been very successful using our Rust Converter on gates and railings that surround community swimming pools. The chlorine fumes react with the railing, especially at the weld joints, to form the rust. The resulting black coating typically blends with most black railings.
Best practices recommend removing large rust and scale particles with a wire brush, or sandpaper. Then clean the surface thoroughly to remove dirt, dust and grease. Allow the surface to dry properly before treating with Rust Converter. Only treat the rusty areas, not the entire surface. Once the rust converter has cured and a black primer has formed, its suggested to rinse or wipe down the entire area, in order to remove any product that remains on the surface. This is critical when applying a secondary oil-based coating.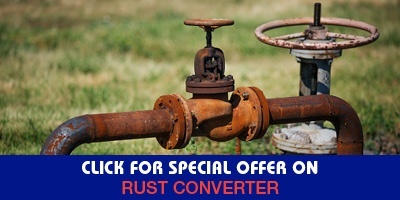 Chemically converts rust to a durable, long-lasting, protective coating

Not a cover-up

Protects against further corrosion

Prepares metal surfaces to readily accept final coats of paint

No sandblasting, grinding or etching required

May be top coated with oil based paint for additional protection
Our product is called RC-346 - Rust Converter and is available in quart packaging (12 quarts per case) as well as in gallon containers (4x1) gallons per case) and 5-gallon pails.
Also available in aerosol can (12 per case)