As long as the earth revolves around the sun, we're going to have weather patterns. It simply takes just two air masses to come together to form clouds, precipitation and even tornadoes.
No doubt these patterns are becoming more dire. As I create this missive, Hurricane Harvey is devastating Texas. The National Weather Service tweeted today, "the effects associated with Tropical Storm Harvey are "unprecedented" and "unknown and beyond anything experienced".
All geographical regions, have their rainy seasons and it falls upon the maintenance managers and building managers to secure the integrity of their roofs, in advance of rainfall and storms. Yet, with the best of intentions, blip happens. We often see shingles that have been blown off roofs, after high winds. Shingles act as a protection to the roof surface and the loss of shingles will cause structural deterioration to the roof. In addition, the plywood structure will absorb moisture and begin to cause wood rot, algae, mold and other forms of damage. All of these result in water leaking into your business. As luck would have it, the leak is usually noticed, in the bosses office.
That's why having a supply of an an emergency roof patch material, makes sense...
The mainstay in our product line is our Rapid Seal Emergency Roof Patch. The ingredients are a granular clay substance (silica and sodium bontonite) that swells exponentially from its original size, to allow the granular to seek out the leak and form a temporary patch. (The granular flows along with the water until its restricted by the area causing the leak.) This obstructs the water flow into the area of the leakage. Rapid Seal Emergency Roof Patch is considered a temporary patch. Once dry the material will shrink to its original size, although it does has the capability to bulge again when becoming wet on several subsequent occasions.
Its highly recommended to repair the leak as soon as possible. Finding the leak becomes much easier, as you can easily locate the area where the granular has traveled to, in order to create the patch.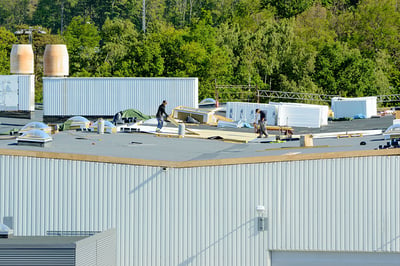 Can be using during the rain
Immediately seeks out and seals leaks in roofs
Our 25 lb. container will cover up to 40 sq. ft. at .5 inches
Use it on any flat roof.

Running water swells the material and carries it to the leak site for sealing

Rapid Seal Emergency Roof Patch stops leaks fast
Remember, when you see water trickling into your facility, simply pour Rapid Seal EMERGENCY ROOF PATCH onto your roof, in the general area where the leak is found. Rapid Seal will follow the flow of rain water as it seeps through the leak. As it reacts with water, it will begin to swell and seal the leak. No messy pastes or tools are required to apply this patching material.
See Technical Data and Video HERE