Yes! We're still distributing Bugs R' Done.
With the hot, dry weather the ants are looking to feast indoors. If you've seen a few, you can be sure there's a colony close by.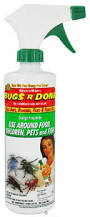 Commercial kitchens, banquet rooms, outdoor serving locations and all areas subject to infestations, can use Bugs R' Done. Known for its safety and effectiveness, this is the answer for a treatment that can last months. Yes, Bugs R' Done is residual. That means that it will remain on the surface, horizontal or vertical, unless its washed away.
Use it around baseboards, in pantry areas, behind refrigeration equipment and dishwashers. - Always spray near refuse areas and in and around grease traps.
It just makes sense to use BUGS 'R' DONE, a highly effective environmentally safe indoor and outdoor insecticide containing pure orange peel oil, nature's own botanically derived insecticide. Did we mention that it smells great, too.
In combination with four other ingredients, all named by the U.S. Food & Drug Administration as "GRAS", generally regarded as Safe - in human foods.
BUGS 'R' DONE attribute is a warning-free EPA-approved label in EPA's least hazardous category IV.

It is labeled both for use around food, children and pets anywhere inside and outside homes, schools and restaurants. BUGS 'R' DONE kills disease-carrying cockroaches, flies, mosquitoes and fire ants.
Our customers are municipalities, industrial, commercial, schools and universities. We do not sell to the public.