Bacteria that can cause life-threatening colitis is being reported in some hospitals in Orange County California. Additionally very high rates of Clostridium difficile (C-diff), are now being categorized as the most substantial, among patients. C-diff has taken over Methicillin-resistant Staphyloccus aureus (MRSA), as the most dominant of the HAI's.
C-diff is a bacteria that lives in peoples intestines, often non-problematic. In nursing home environments, C-diff is transmitted when patients excrete the C-diff spores, along with their feces and do not thoroughly wash and sanitize their hands. Transmission then occurs person to person and also via surfaces (touch points). The outcome is inflammation and damage to the lining of the colon, leading to severe diarrhea. Serious infections can lead to colitis, sepsis and death.
Patients receiving antibiotics are highly likely to this type of infection because the meds kill beneficial bacteria that could otherwise help fight the infection. The CDC advises that C-diff can occur up to 30 days after the full dosage of antibiotics.
The spores are tough o kill and the EPA has excluded may disinfectant products, that previously had the C-diff claim. C-diff easily withstands typical cleaning disinfectants and alcohol gels.
Poor hygiene in hospitals and nursing homes must come to an end. Sanitation must be ramped up along with proper training techniques. Be certain that your products are modern and the EPA claim is relevant.
At this time, only bleach based products are considered effective to control these difficult spores.
ACTIVATE is such a product. ACTIVATE kills C-diff spores in four minutes. The ACTIVATE bleach dilution system dispenses sodium hypochlorite in the widely recommended 5000 ppm available chlorine solution, as a course, non-aerosol spray. That makes it easy to use and the simple spray system eliminates human error and safety issues, associated with handling bleach.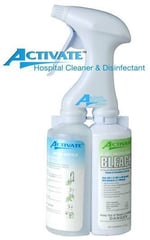 Ebola