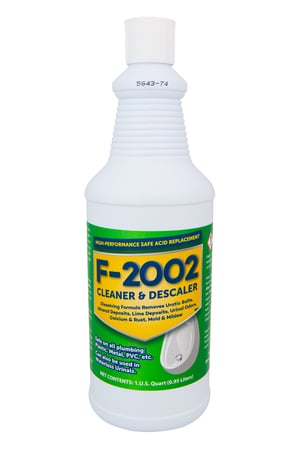 F-2002 is a safe, high performance, biodegradable, non-caustic, non-acid,non-corrosive multi-functional cleaner for industrial, municipal and institutional facilities. It removes calcium (tough water scale), soap scum, rust stains, lime mold & mildew. -Yet, unlike other products that create dangerous acidic vapors,
"F-2002" has no harsh fumes, and it is safe to the user and the surfaces being cleaned.
In conventional cleaning, two or more products are typically used: one to remove stains like rust and calcium, another to remove soap scum, mold & mildew. "F-2002" effectively handles both in one operation.
Acid Replacement Cleaners, especially a Concentrate Acid Replacement Cleaner, makes for an economical & safe method to maintain your environment. USR and Uratic Salts Remover can also be utilized for salt free urinals.
Multiple Areas of Application:
Bathrooms/Restrooms: Cleaning Sinks, Toilets, Tile, Faucets, Ceramic Tile & Grouting
Kitchens & Food Service: Tile Floors, Walls, Grouting & Stainless Steel Equipment
Ridding facilities of dangerous acids and their fumes is very desirable to chief engineers and executive housekeepers.
Benefits:
Safe to use • High Performance • Cost Effective • Non-Toxic

Non-Fuming • Environmentally Correct • 100% Biodegradable

Non-Corrosive • Non-Regulated Shipping (Regular UPS / FedEx

QUICKLY REMOVES URATIC SALTS FROM URINAL LINES
F-2002 EASILY REMOVES URATIC SALTS. Customers looking for a safe way to maintain free-flowing urinal drain lines, have been delighted by the performance of F-2002
SEE "F-2002" Technical Data HERE
**Please call us. We can answer your questions regarding scale removal and build up of uratic salts**