Alpet D2 Surface Sanitizer for Food Contact Surfaces
Kills 99.999% of Bacteria and Viruses
58% IPA/quat formula

Ready-to-use, no-rinse, food safe

Kosher certified and Pareve

NSF certified D2 classification

Approved boot sanitizer

60 seconds to sanitize food contact surfaces

Non-corrosive, non-conductive

Highly evaporative / Ideal for water sensitive equipment and low moisture areas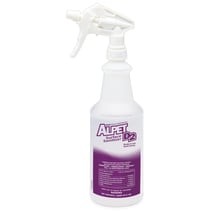 Authorization:

Meets current E.P.A. Regulatory Standards (40 CFR 180). Approved as a no-rinse sanitizer for food contact surfaces.
EPA Registered - E.P.A. Reg #73232-1. Also meets previously accepted USDA standards for the D2 rating. U.S. NSF listed.
Kosher, Pareve and Halal Certified. Received a Canadian Food Inspection Agency (CFIA) letter of non-objection for use
in food processing facilities.