Chemex Foaming Coil Cleaner
With Bio-Enzymatic Action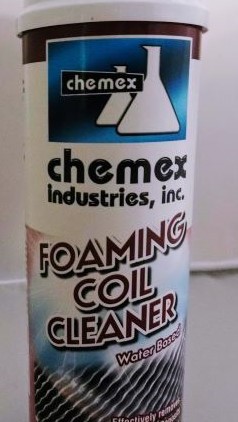 Contains natural enzymes for continuous cleaning and breakdown of organic coil contaminants. May be flushed off with water or left on fins, without rinsing. Helps maintain optimum unit efficiency. Deodorizes as it cleans, leaving the area with a fresh, clean fragrance.
Powerful, thick, clinging foam removes dirt, lint and grease from air conditioner and heater coil fins
Improves Air Flow and Reduces Energy Consumption
No Rinse, Non-Acid and No Harsh Fumes
Bio-Enzymatic Action Removes Stains and Odors Associated with Mold & Fungus
Convenient portable aerosol features a strong directional spray which helps force foam into coil air spaces
Reduces Energy Consumption
Use On: Radiators, roof heating and cooling units, wall and window units, ventilators, dryers, ice machines and refrigerators
Used to Clean & Deodorize Condensate Drain Pans and Drain Lines. - Use Condensate Drain Tablets, from Chemex, for extended care.
• Increases Air Flow and Unit Efficiency
• Regular Use Helps Save Energy
• Helps Keep Drip Pans and Drain Lines Clean, Free Flowing and Odor Free
• Air Conditioners • Ice Machines • Cold Storage Compartments • Freezers • Heating Coils • Heaters
• Condensate Drain Pans • Hand Dryers • Refrigerated Trucks • Refrigerators